---
Clare is a Mindfulness Teacher and Trainer based in Cardiff.
She was a secondary school teacher for over 25 years in Glasgow and Cardiff. For the last 14 of those years, she was a Senior Leader in an inner-city secondary school in Cardiff, leading on Pupil Development and Wellbeing. She resigned from her post in 2015 to follow her passion and teach Mindfulness to children, young people and staff in schools and adults in the community and business settings.
Her experience in meditation spans over 20 years and she has been practising yoga for over 6 years. She trained with the 'Mindfulness in Schools Project' to teach .b, Paws b and .b Foundation courses to teach children, young people and staff in schools. She then went on to train at the University of Bangor to enable her to teach the Mindfulness-Based Stress Reduction (MBSR) 8-week course to adults in the community.
Clare has trained in Glasgow with the 'Youth Mindfulness Kids programme' and at the University of Exeter to enable her to teach the Mindfulness-Based Cognitive Therapy (MBCT) 8 -week course and the Mindfulness: 'Finding Peace in a Frantic World' 8-week course.
Clare is continuing with her studies in Mindfulness at Exeter University where she is studying for an MSc in Psychological Therapies and Mindfulness-Based Cognitive Approaches.
She also regularly attends meditation retreats and courses and meets the requirements of the Good Practice Guidance for Teaching Mindfulness-Based Courses published by the UK Network of Mindfulness-Based Teacher Trainers.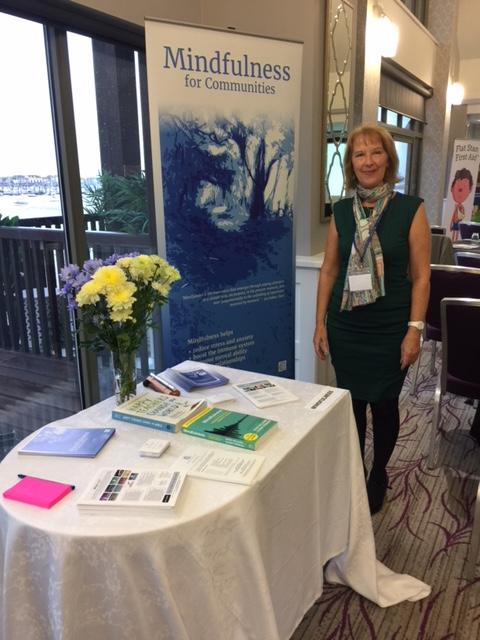 At a Wellbeing Conference in North Wales where Clare gave a presentation in Oct 2017
---
Clare's qualifications:

BA Social Sciences -Glasgow Caledonian University
PGCE (Secondary, Distinction) -University of Strathclyde
PG Diploma in Guidance and Pastoral Care-University of Glasgow
PG Certificate in Psychological Therapies and Mindfulness Based Cognitive Therapy (Merit)-University of Exeter