---
Children and young people

Year 9 and 10 students:
I liked that we can all do these meditations whatever our culture and religion
'It relaxes me and calms me'

'That we learned how to handle anxiety and stress levels'
'It cleared my mind and I liked the quizzes and the fun we had learning'
'Using the meditations at home'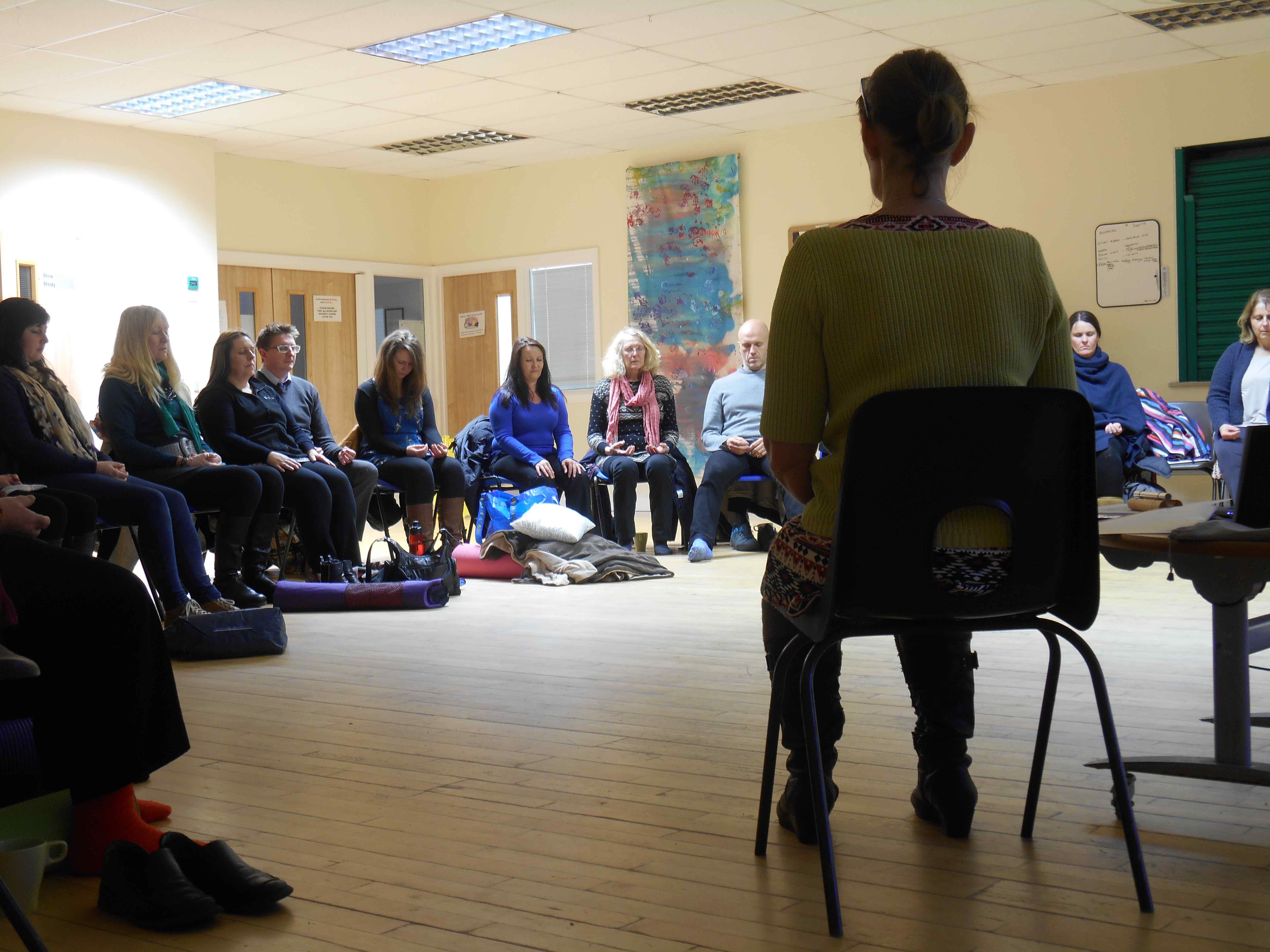 .b Foundations participants
Clare McRobbie delivered the 8-week .b Foundations Mindfulness course to some of our staff last summer term. We looked forward to her visit each week and learned many important life skills that really have no age boundary. We learned how to calm our minds, to be more positive and grateful and the importance of savouring 'the now'. Amidst the fast pace of school life, these have proved such important skills in being able to maintain perspective and balance.
She also taught the Youth Mindfulness Kids Programme to the pupils in Year 5 and they enjoyed the difference activites, and week-by-week, they gained greater self-awareness, self-control and insight. I sincerely hope the lessons they have learned stay with them as they move towards such uncertain futures.
I would highly recommend working with Clare and the benefits of teaching mindfulness in our school currciculum.
Sue Prosser, Headteacher, Llansannor & Llanharry CiW Primary School, Vale of Glamorgan
Claire introduced Mindfulness to Thornhill Primary School staff over a period of eight weeks. The sessions were so useful and helped us to consider the importance of paying attention and being 'in the moment'. Each of her lessons were calming and supportive and the staff looked forward to that time which they had set aside for their practice. Since engaging with Claire one of our staff members has trained to deliver Mindfulness in the classroom and we have a highly successful mindfulness club. Definitely positive for our children! I would recommend that all staff take time out to try these sessions - Claire will really look after you!
E. Berry, Deputy Head Teacher, Thornhill Primary School, Cardiff
'Claire was a fantastic tutor!'
'Extremely enjoyable course. Good pace and plenty of opportunities to participate in discussions or questions'
'Excellent! 
Clare was fantastic at creating a relaxing, supportive environment where mindfulness could be explored and developed'
'The training was delivered at a consistently high level by a tutor who clearly wished to facilitate our introduction to, and continued use of mindfulness. She was non-judgmental; clearly she just wanted to open possibilities for us to consider – excellent.'
'Exceeded expectation - this was a time for me when I felt I could look after myself, a time I not only enjoyed but needed. The course was non-threatening but dealt with issues I needed to think about and equipped me to deal with the stresses of teaching and life generally'
I have really enjoyed this course. The trainer explained the meditations carefully and clearly and listening to her soothing voice was the highlight of the training!
I have found the course very useful especially the meditation, enabled good quality sleep and a breathing space when things were a bit hectic. Each week I felt you were stronger mentally, and more able to take on different aspects of life and work. Thoroughly enjoyed the course and would recommend this to anyone who finds life stressful or anyone who might need time out!!
'I enjoyed the course. It has helped me to relax, remain calm and taught me how to manage my thoughts. I am better at thinking about what I am doing now and this has made me more focussed and efficient at completing tasks both at home and work. . I have learnt not to overthink and have learnt how I can take time out in a day to manage stressful situations or thoughts. Mindfulness is something you don't realise you need until you do it.'
'This course has taught me how to calm down in stressful situations.'
'Since being on the course I do feel calmer. I am able to zone out when situations are very noisy and disorganised. I feel stronger to cope with stressful situations. Claire was very easy to relate to. I will be continuing my meditation without fail.'
'A real life changer. I am finally able to switch off from work and not feel guilty about it.'
'I've found that this course has made me more connected to my thoughts and the impact that they have on my day to day wellbeing.'
'To sum up Mindfulness it's helped me put things into perspective.'
'Attending this course means that I'm now able to give myself the permission to spend time to spend time on me. I've recognised that this is time well spent.'
'I can feel my sense of self returning.'
A better work life balance. Not to worry about the future and things that may not happen. How to be kind to myself .
Enjoyed the trainer's calm positive outlook and the way she managed the course. Would like to take this forward with children now.
Course has a positive impact of professional and personal life. An excellent balance of theory and practical activities with super resources.
I would recommend this training it has been an excellent experience and it has taught me to have a better insight into myself.
The course has been a good mix of theory and practice. Learning how to deal with difficult things through mindfulness techniques. Appreciating the moment and some me time.
Balance - each session provided new and key elements to support reflection of one's life and current habits and routines along with useful practices. All in a manageable chunk - never overloaded.
To learn to stop, relax and approach situations in life in different ways. To relax my body and control my mind and to consider the gift of life and the here and now and find peace. To approach difficulties with openness and calmly work towards a resolution.
Excellent. Definitely should be part of teachers' training (or any other professionals).
I would recommend to colleagues because it is working and too many people are stressed. This can help people to deal with stress and find happiness again.